Casa Lobo's lovely subtropical gardens are part of the 1000 m² ground. It is divided into an exquisite pool area, a patio, a barbecue area and a lower party with new, beautiful terraces and newly planted fruit trees – a great place to enjoy the sunrise over the Mediterranean Sea!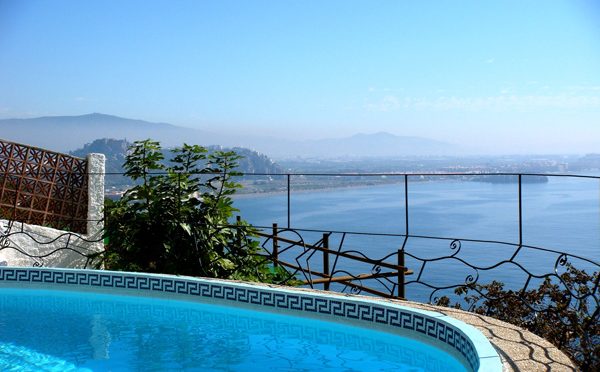 The heated pool:
The pool is great (8.55 x 4.75) and heated with solar heating, so the heating is without cost for you. The capacity of the panel is so big, that the pool can be used throughout the year. In the spring and autumn months the pool will have a temperature of around 27 degrees when the sun shines. Right next to the pool there is an outdoor shower with cold/varm water, and of course, there are sun beds for the whole family by the pool.
The patio:
Casa Lobo's patio is the first thing you encounter when you come to the villa. The patio will welcome you to Casa Lobo with its charm and the beautiful Andalusian flower pots … …
Barbeque-area:
The patio and the terrace offers access to the barbeque area, where you can grill delicious steaks or fish on our Argentine grill. In the barbeque area you'll also find our largest orangetree. Here you can pick fresh oranges in December-February.
Terraces:
Casa Lobo's terraces in the lower part of the garden has the most wonderful views. In the spring of 2011 this part of the garden was completely renovated with new terraces at several levels. The terraces are made with the finest stonework and with newly planted fruit trees.
The image just below is taken from the corner of our lower terrace where you so close to the sea that you can hear the waves and see the stones on the seabed……..
… … and on the pictures below you will see more images of our lower terraces where you can enjoy the last evening sun, when the sun's rays not reach the other terraces.
Around the house, you will everywhere find a lot of cosy corners with terraces – all with views and beautifully planted. The pictures below are from some of these terraces, while the pictures above are taken in the lower, newly renovated part of the garden.