We welcome you in Casa Lobo i Salobrena.
Are you going to spend your vacation in Spain in the lovely town Salobrena?  Then we have the perfect villa for you and your family!
Our lovely Casa Lobo has everything: Charme, unique view to the sea and a heated pool.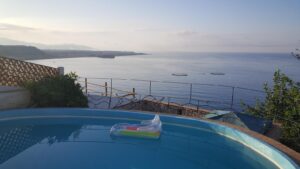 Casa Lobo, which means " the Wolfhouse", is situated in one of Costa Tropicals most sought after areas. The view from all parts of the ground is simply stunning. And the terraces and the pool-area are completely private.
Please read more about our lovely villa and the wonderful area where it is situated. On this website you'll find lots of information, which will be valuable for you when you shall decide where to spent your next vacation.
On our website you'll find:
a description of the

villa Casa Lobo

– and of course a lot of lovely pictures from the house, the garden and the pool
information about the area: the beaches, local rent of cars, activities and what to see in the ara
and finally information about rates, rental periods and how to make contact to us, if you decide to book a week or perhaps two…..
Why choose a vacation in Salobrena?
The town is not one of the best-known towns at Costa Tropical, and the locals calls it "The best kept secret in Andalucia". This means that Salobrena is not spoilt of the tourism as many of the towns at Spains coastline is.
Salobrena is a town where the Spanish families have their vacation. This means that you in Salobrena will be able to find the real and autentic  Spain. In Salobrena you will get tapas on the local bars and the town has many local fiestas and a very friendly population.
During the last years we have had new and more international restaurants in Salobrena. But still, it will be a great help to know a few Spanish words when coming to the local restaurants and shops.
On the next pages of the website, you can get more information of Casa Lobo i Salobrena……
You are welcome to make contact to us if you need more information.
From a desktop computer you may also visit our original website by following the link: Casa Lobo's website from a desktop computer.
Casa Lobo's is a fully licensed holiday home: VFT/GR/-00674